Understand the Critical Role a Well-Written, One-Page Resume Plays in Helping You Land a Higher Paying Job, Regardless Of Industry.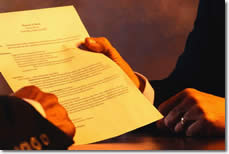 Writing an excellent resume is your key to catching an employer's eye. But, how do you distinguish your resume from others? For many job-seekers writing a resume that's chock full of flat content won't influence a prospective employer to pick up the telephone and call you.
Our research indicates that many people have problems with either making their resume too long, or adding important information to it. Also, figuring out how to present their information, what to say and where to say it can be cumbersome task.
The task of writing an excellent resume is not an impossible one. Keeping a few considerations in mind can help you write a clear, concise and attractive resume. Keeping your resume short and to the point saves the employer time, and is more likely to attract their attention. It also gives them what they need to know in a quickly readable format.
Communicate a personalized value proposition to the employer.
Many job seekers have found that a well written, one-page resume is the key to catching an employer's attention and securing an interview.
By keeping relevant information to one page, they're forced to use only the most relevant information, so the employer gets exactly what they're looking for, immediately in front of them.
Remember this! The primary goal of the resume is to get the interviewer interested in picking up the phone and calling you in for an interview.
Follow these tips to have an excellent, attention-grabbing resume:
1. Tailor each resume to the job you're applying for.
While it's a good idea to have a catch-all resume available just in case, when you're applying for a specific job, you need a specific resume.
Rather than have all of your skills, former jobs, and education listed, narrow your focus to only what's relevant to the job you're applying for.
2. Not all information has to be on the resume itself.
You don't have to cram every bit of information onto the resume itself. Some information, like your job objective, is actually better if it's stated in the cover letter. Incorporate keywords relating to your skills and knowledge in the cover letter.
The cover letter is also a great place to describe your 'soft skills', such as ability to communicate, so you can save resume space for hard, job-related skills. Remember be clear, concise, truthful and to the point.
Your references deserve a page entirely of their own, which will free up a lot of resume space. Another option is to state on the bottom of the resume, "References available upon request".
3. Quantify your information.
Having your information quantified will not only catch an employer's eye, but will prove your claim. Sure, you can have a list of things that you did and managed, but it's far more impressive to show how many things you did or managed, how much you saved a company, how much revenue you generated or how you compared to others in a similar position.
If you've supervised others, list how many people you were in charge of. If you managed accounts, list the number of accounts you managed. Which is more impressive - to list "Managed customer accounts and orders," or to list "Managed 500 customer accounts and 3 to 10 orders per week"?
Quantifying your information tells your potential employer exactly what you can do and how you can benefit them!
4. Use wording and terminology related to the position you want.
Using words and phrases related to the position you want will not only help you get that position, but it can have a direct impact on your perceived value to the employer.
Using passive language won't compel an employer to see you differently that other candidates applying for the same position.
Think about ways to make your wording sound action-oriented. Did you give assignments or did you direct workflow? Did you maintain a system or did you manage it? Remember to also use specific wording that's common for the particular job you're applying for.
Rather than stating that you're seeking an entry-level position in your field, state that you're seeking a position in that field that utilizes your experience. This is much more specific and is more likely to land you a higher paying job. Don't under value your worth!
5. Delete everything that isn't relevant to the job.
Prepare a mockup of your resume, then go through and, with your job objective in mind, delete everything that isn't relevant to your objective. If you're in your thirties, that cashier job you had back in high school probably isn't relevant.
On the other hand, if you're a young or inexperienced job seeker, you may need more items to fill in your resume. In a situation like this, rather than choosing any item to fill up space, figure out how your experience may be indirectly related.
Don't look narrowly at what your job title says you did, but look at everything the job required to find relevant experience.
6. Prioritize items in order of relevance.
One of the biggest mistakes job seekers make when writing their resumes is to have all of the important information at the bottom of the resume.
By the time the employer has read that far, they've probably lost interest. Go through your items, and rank them numerically - 1 being the most important item, 2 being the second most important, etc.
When you're done, rearrange the items in order from most to least relevant. This is an excellent way of trimming down a long, wordy resume.
If you need help writing an effective, high impact resume, contact our staff and we'll put you in touch with highly qualified resume writer.
---